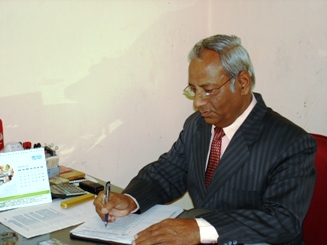 It gives me great pleasure and honour to be part of the Awareness Movement. First of all, these I wish to extend my heartiest felicitations to all those who came forward, joined hands and worked diligently to create awareness about various issues confronting our society.
Citizens Awareness Group – a voluntary organization comprising dedicated and concerned citizens was established and registered under the Societies Act, 1860, on 28th December, 1994, with a view to creating awareness about health, sanitation, environment and consumer problems and also to work for national integration by organizing public meetings, declamation contents, paper reading contests, poster painting competitions and by distribution of literature.
It is a known fact that the Citizens Awareness Group has been marching ahead with speed and has never back. We have been able to create awareness about HIV/AIDS, leprosy, iodine deficiency, disorder, pulse polio, blindness control, sanitation, anti-smoking and drug de-addiction etc. by different means among the residents of the City Beautiful and usher in an era of hope for the down – trodden and helpless sections of society and bring cheer and colour on grim and gloomy faces.

This achievement has created a feeling in the Administration that we have done real useful work in this direction. We won the award for AIDS awareness from Shri K.K. Khandelwal, Deputy Commissioner on 01.12.1995, for leprosy awareness from Her Excellency Smt. Rama Chhibber on 22.08.1997, for pulse polio from Smt. Anuradha Gupta, Home Secretary, Chandigarh Administration on 21.10.1997 , for Matri Suraksha Abhiyan from Smt. Rama Chhibber on 13.08.1998, for prevention and control AIDS from Lt. Gen. J.F.R. Jacob (Retd.) Governor of Punjab and U.T. Adminstrator on 01.12.2000, Smt. Neeru Nanda, Advisor to Administrator on 01.12.2001, Sh. Karan A. Singh Finance Secretary Chandigarh Administrator on 01.12.2003 and Gen. S.F. Rodrigues, Governor of Punjab and U.T. Administrator on 01.12.2004. We also won award for creating traffic awareness from Sh. Vivek Gogia DIG Police U.T. Administration on 07.01.07.
The role of media (print as well as electronics) during the awareness generation programmes conducted by the group has been greatly appreciated. It is mainly because of the whole hearted support and co-operation of media that Citizen Awareness Group has emerged as one of key N.G.O. in the country and abroad. We have been admitted as Member of consumer Coordination Council (CCC) New Delhi, Pakistan – India people's Forum for Peace and Democracy (PIPFPD) New Delhi, South Asia Faternity (SAF) New Delhi, National Aids Control Organization (NACO), New Delhi, Indian Network of NGO's on HIV/AIDS (INN) Ahmedabad, Common Wealth Human Rights Initative (CHRI), New Delhi, Naaz Foundation International, Lucknow and Human Rights Law Network, (HRLN) New Delhi, All India Committee for Eradication of Illiteracy among Women New Delhi, Women Power connect (WPC) New Delhi and Aassociation of Democratic Reforms (A.D.R.) New Delhi, All India Conference of Intellectuals, Meerut.
We are recognized as Investor Association by Securities Exchange Board of India (SEBI) Mumbai w.e.f 5th June, 2007 and consumer Advocacy group by Telecom regulatory Authority of India (TRAI) New Delhi w.e.f. 30th July, 2007.
In its effort to reach out to a wider cross section, the Group launched its website cagchandigarh.org and cacchandigarh.com so that people from across country NOG's approach it for consultation and advice.
I, on behalf of the group urge and welcome all like-minded people to join and contribute to the fulfillment of its objectives Co-operation in any from, physical, financial, moral or otherwise will be welcome.
SURINDER VERMA
CHAIRMAN
CITIZENS AWARENESS GROUP